I am currently writing my diploma thesis at the University of Ulm on performance issues regarding Rich Internet Application technologies like Adobe Flash/Flex, JavaFX, Silverlight and various JavaScript solutions.
(Update: It's done! :-) )
I started back in December when I first noticed that Adobe's Flash Player seriously has some performance issues. It always was by far the slowest of all technologies.
Today, I retried some of my self-written benchmarks using the new Flash Player 10.1 RC4 and I was absolutely blown away. The new version is so fast, it's absolutely incredible.
I am not done yet with my thesis until mid-July, so I won't publish to much about it here but I thought it might be interesting to show just one benchmark-result here.
I don't want to go to much into detail regarding the test implementations since these might change til July, so if you want to know more about the exact details on my benchmark, you gotta wait til I am done with my thesis. So long, think of this as a "preview" ;-) since some things might still change. The final test/benchmark will be revealed in 2 months when it's 100% finished. I just didn't want to post anything that's not done yet. As already said, this is just a little teaser for the final benchmark.
Test setup
All tests were run on a Macbook Pro with an Intel Core 2 Duo at 2.53 GHz and 8 GB of RAM.
Tests, which require a plugin were running using Safari.
Additionally, I also ran some JavaScript-based tests on Firefox, Google Chrome and Safari.
The code base for all tests is basically the same, except for differences regarding Syntax, of course. This makes all test results comparable.
Results (Click to enlarge):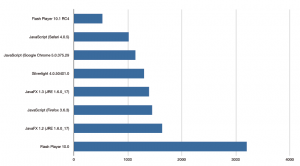 All values are in milliseconds [ms] => Less is better
In numbers:
Flash Player 10.1: 528 ms
JavaScript (Safari 4.0.5): 1015 ms
JavaScript (Google Chrome 5.0.375.29: 1039 ms
Silverlight 4.0.50401.0: 1300 ms
JavaFX 1.3 (JRE 1.6.0_17): 1392 ms
Firefox 3.6.3: 1449 ms
JavaFX 1.2 (JRE 1.6.0_17): 1635 ms
Flash Player 10.0: 3201 ms
Adobe, what the hell did you do???
Note: Please be aware, that I am basically testing FP 10.1 vs FP 10.0 here. This has nothing to do with the latest RC4 version of FP 10.1 since I haven't done any tests with older release candidates yet.
Update: Added test results for JavaFX 1.3 and fixed a mistake regarding the test results for Firefox.
Update II: According to a blog entry of Tinic Uro, an engineer at Adobe Systems, the reason why Flash Player 10.1 works so well on Mac OS is Apple's Core Animation Framework (Thanks to Matthew for the link!)
What I really liked about this blog post is the following:
"You might have noticed that Core Animation is a Cocoa API. Yes, Flash Player 10.1 is a true Cocoa app now (with a Carbon fallback to support Firefox and Opera which are not Cocoa yet)."
Flash Player is a true Cocoa application now? Nice.