Disclaimler: First of all, let me state clear that I am not involved into the Framework7 project. I am not getting paid for this post. This is just my honest, personal opinion as a mobile developer.
Early steps
The first framework I used when I started mobile development was jQueryMobile. I was used to jQuery coming from Desktop programming so I thought: "Hey, it says jQuery, so I guess it must be good". It sucked balls, just like any other Framework I tried like KendoUI or SenchaTouch. They either sucked regarding performance, sucked about look & feel or simply sucked monkey ass ballz! Excuse me for my language but for years I couldn't believe that it was true that there is no HTML5-framework that can deliver anything close to a native app, so I always believed that it simply wasn't possible.
And then I discovered Framework7
Oh, boy was I blown away when I saw the first demos for iOS on their website. This was just what I was looking for. The way these apps looked, feeled and performed was 99.9% accurate to what I am used from native apps. I couldn't believe it and so I tipped my first steps in. I quickly found out that Framework7 was not only easy to use, it just worked™. You create a few lines of HTML markup and boom, that's it. Framework7 will take care of the rest. The looks, the page transitions all works out of the box. I couldn't believe it and why hadn't I heard about it before? I don't know but since they also released a new Material Design option for Android I am absolutely convinced: This is it. The best framework you could possibly use for mobile app development with HTML5, CSS3 and JavaScript. Throw that all into a PhoneGap/Cordova container and you should be fine.
Screenshot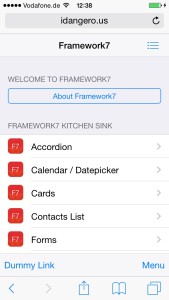 Demos
For iPhone open this.
On Android open this.
The future
The biggest problem I see with Framework7 is that it doesn't get enough attention. For years I didn't hear anything about it and when I talk to other devs they never saw it before until I show em and they're all completely blown away.
Also, if you search for "best html5 mobile framework" on Google you will get shitloads of so called comparison websites like "Top 10 mobile frameworks" and barely I see F7 mentioned or even find their main website in the search results. So, if you like F7 and you'd like to support, go tweet about it right now!
I just hope that developers haven't given up on HTML5 for apps yet. Since the hype of Facebook's React framework many people seem to transition there.
Oh, boy I need to go back coding. This is so much fun <3